Guten morgen, friends! Guess what?! I'm on a plane!! Soon to be on a boat...but that's not until tomorrow. D and I were up bright and early at o'dark thirty ready to make our way to Barcelona for our Spanish cruise! We've got 2 days to explore all that Barcelona has to offer (which I'm more than stoked about...hello sangria and tapas!) before we board our ship and sail off to Morocco, Portugal, the Canary Islands, and Malaga. After our lack-luster Baltic cruise this past July, we definitely need something to take the bad cruising taste out of our mouths. Remind me to blog about that cruise one day (I swear, I'll get there). With the weather forecast for each destination in the mid-70's to low 80's and 4 "sea days" ahead of us, I think this cruise is already shaping up to be pretty stellar. Not to mention we're gonna ride camels! I rode a donkey in Santorini, why not add a camel to the list? Seems like the natural order of things. :) I know I say this every trip, but since we've never been to any of these locales before, it's worth saying again...make sure you're following my INSTAGRAM feed!! I'm sure I'll be posting an ungodly amount of fun travel pictures during our cruise and you won't wanna miss 'em! Things on the blog and in Twitterville will be pretty quite while we're sailing, but I do have a few posts scheduled so you guys won't forget about me. And if you've got a handmade shop, don't forget to sign up to be showcased in my 2nd Annual Handmade Holiday Gift Guide! I'm taking entries until November 6th, so spread the word to all your shop-owning friends! I want this guide to be the best one yet!
Ok, enough about my vacation excitement and blog housekeeping...on to my lovely Fresh Faces! Be sure to visit the two fun bloggers below and leave them some love. Also, link up your own creative space to the Fresh Face Friday Blog Hop and meet some new friends this weekend! All the cool kids are doing it. :) Adios, my friends! See you in 9 days!!
-----------------------------------------------------------------------------------------------------------------------------------
Blog | Twitter | Bloglovin' | Facebook | Instagram | Pinterest

Megan of the fun travel and lifestyle blog, Megan Joy Jaunts, is brand new to blog world! She's currently living and working abroad in Germany (yay!) with the US Air Force (double yay!). She's also lived quite a few other places having been a military brat and active duty Air Force for over 10 years! Pretty impressive, huh? Over on her creative space, you'll find posts about her jaunts around Europe, peeks into her life abroad, and some serious football fandom. I'm honored to have Megan as one of my Fresh Faces this month, so head on over and say hello!
Megan's Favorite Posts:
It Wasn't A Moment, It Was A Person
Elephant Parade Luxembourg City
My 10 European Day Trip Must-Haves
My Favorite Posts:
Luxembourg City: Part 1
Weekly Wishes #6
Trier on a Whim
Blog | Twitter | Bloglovin' | Facebook | Pinterest
The spunky girl above is Akirah, founder of the namesake blog Akirah Robinson. Akirah is a total powerhouse and women's advocate, as is evident by her inspiring blog devoted to spreading awareness for healthy relationships, self-love, and encouragement for women's healthy living. Akirah shares post after post meant to uplift and empower women to share their "brave hearts," as she so eloquently puts it. I hope you'll visit Akirah today and find the love and inspiration you've been looking for. She's a true warrior for women!
Akirah's Favorite Posts:
Why I Told 150 Wedding Guests That My Husband Doesn't Complete Me
Extra Weight, Extra Grace?
21 Things You Can Do The Moment You Feel Lonley
My Favorite Posts:
Elle Wood's Knows What's Up
Number One Rule of Dating
Why We Don't Talk About Abuse: Part 1
---------------------------------------------------------------------------------------------------------------------------------------
Welcome to the
FRESH FACE FRIDAY BLOG HOP!
Rules for hopping:
1| Follow your host & co-hosts (first 3 links), pretty please!
2| Link up your blog's homepage or Bloglovin' page.
3| Hop around, meet new bloggers, and leave them love!
4| Have fun? Spread the word and share this blog hop with your friends!
5| Want to be a co-host? Click here for more info!
Grab a button and share the blog hop love!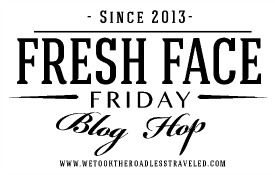 Tweet about this blog hop!
Tweet