I'm not sure how this is possible, but this past week was both the longest and shortest week ever. At times I felt like I was drowning with all the new things I had to take on, yet the monotony of it all just made the days drag on. I know, it literally makes no sense...but I have no idea how else to describe the state of my week. Truth is, I'm currently knee deep in a new and SUPER EXCITING endeavor (insert 5,000 exclamation points here!!!)--something I never thought I'd actually ever be doing--and it's consuming my entire life at the moment. I'm exhausted and overwhelmed in the best kind of way. Of course, I'm still not quite ready to spill the beans (we bloggers love a good cliffhanger!), but know it's something that will not only be a major thing for me, but will benefit many of you guys as well! I bet your wheels are turning now! ;) So, forgive the lack of meaningful writing and regular posting here lately. Over the next few months I'm going to have to learn how to balance this blog and this amazing new opportunity, so bear with me as I try not to ruin either of them. This blog and our time abroad are big parts of the reason this new opportunity came to be...so, no pressure, right? ;) In the meantime, would you guys mind sending me all the extra good vibes you've got lying around? While excited about this vague thing I speak of, I'm also TERRIFIED of it as well. Natural human response to big changes, I think. In the midst of chaos, my parents are coming in today and spending the next few days with us, but I'm so I'm looking forward to bouncing ideas off them and enjoying a weekend reconnecting with family. Just what I need after a non-stop last 2 weeks! I'm sure Disney World and/or the beach will be involved. Can't ignore my Florida happy places for too long.
Hope you all have had productive and enjoyable weeks yourselves! TGIF, am I right? Whew! Now that we've made it to the weekend, start it out right with meeting Genevieve & linking your blog up to the Fresh Face Friday Blog Hop! Always a pleasure having each and every one of you...so get to hoppin'! Until next week, friends!
----------------------------------------------------------------------------------------------------------------------
Author of the travel blog, Wanderbug, Genevieve is the epitome of an avid traveler. Paris, Australia, Greece, and my personal favorite, Germany…you name it, Genevieve has been there and wrote about that! Over on Wanderbug, you'll find yourself immersed in informative travel posts featuring captivating destinations, traveler tips, tricks & itineraries, and some beautiful photos. Genevieve has created a great one-stop shop travel resource in blog world, so, go visit today!
Genevieve's Favorite Posts:
---------------------------------------------------------------------------------------------------------------------
Welcome to the
FRESH FACE FRIDAY BLOG HOP!
Rules for hopping:
1| Follow your host & co-hosts (first 3 links), pretty please!
2| Link up your blog's homepage or Bloglovin' page.
3| Hop around, meet new bloggers, and leave them love!
4| Have fun? Spread the word and share this blog hop with your friends!
5| Want to be a co-host? Click here for more info!
Grab a button and share the blog hop love!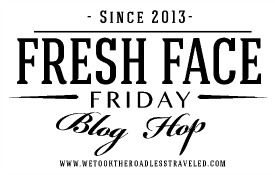 Tweet about this blog hop!
Tweet