FRIDAY! Welcome, friends! Hope you've all had a lovely week!
D and I have had an exciting, busy whirlwind of a week. Our stuff arrived!! FINALLY! And now we're swimming in a sea of boxes and clutter. It's
slightly
insanely
overwhelming. I think I have selective memory when it comes to traumatic experiences, because I don't remember ever being this out of mind with OCD panic and annoyance when we've moved in the past. I must press delete on that part of my brain after I make my way through it. For some reason, I can't STAND having all these boxes scattered about. We were so thrilled to get our stuff (after 60 long and stressful days of waiting), but what neither of us realized was how used to NOT having our things we got. Of course we missed our bed and having plates and pots and pans to cook with, but we kind of loved having wide open empty uncluttered space all around us. Sure, the house echoed and we had nothing but the floor to sit on in certain rooms, but it was clean and new and...
simple
. I hardly had any surfaces to clean, and that in itself was SO FLIPPIN' NICE. Now, it's like a bomb went off in my brand new beautiful
home. I wake up and immediately want to go back to sleep, just so I can ignore the mess. I literally
can't even
, as they say. ;) It's funny how one moment you want something so bad, then the next, when you actually have what you wanted, you realize maybe life was better without it. Not that I would really want to get rid of all my stuff
forever
. The human mind is weird and confusing. But, we're surviving...and trying not to gag over the nauseating cardboard smell overtaking our home. I know in time the moving dust will settle and I'll look back on these words and laugh. And then I'll do it all over again in 3 to 4 years. Glutton for punishment, we military families are.
Silver lining? NO ALCOHOL WAS HARMED IN THE MAKING OF THIS MOVE!! Many happy dances have been danced over that fact this week. And so far, of the boxes we've managed to unpack, nothing else has been broken either! PRAISE THE LORD! If you guys saw how much glassware and travel keepsakes we shipped, you'd be shocked. To have not a single item damaged has been such a relief...and a total miracle. D and I have been sending lots of good vibes to the Polish "gentle giant" who packed all our things (this 22-year-old man-boy was massive, but the sweetest, most gentle packer I've ever met). He may have taken forever to pack, but his thoughtful meticulousness (and massive amounts of packing paper) saved us from losing invaluable pieces & keepsakes we would never be able to replace if they broke. Our stuff may be clutter, but it's unbroken clutter...and for that, we're so very thankful.
When the unpacking gets to be too much, I happy to know I've got a secret weapon of distraction this weekend...the FRESH FACE FRIDAY BLOG HOP! Have you said hello to the two fun bloggers below? If not, make sure you do--another great set of ladies sharing their lives on the interwebs! Don't forget to link up your own creative space to the hop...and BE SURE to come back September 5th to link up to the new prompted hop! Don't know what the heck I'm talking about? Catch up here! Can't wait to read about the greatest trip of your life!
Happy weekending!
-------------------------------------------------------------------------------------------------------------
BLOG | FACEBOOK | TWITTER | BLOGLOVIN' | GOOGLE+
I'm not sure how I hadn't come across Marielle's beautiful blog before having her as a Fresh Face, but I'm so glad to know her now! Marielle is a former English-teaching expat in China & South Korea now navigating life back stateside. Over on her blog, This Flooded Sky, you'll find stories recapping her time abroad, passionate & thought-provoking pieces about feminism, and reflective posts about expat life and world of blogging. I've so enjoyed getting to know more about Marielle's story...visit her today, won't you?
Marielle's Favorite Posts:
Local Exploration
How I Became a Feminist
My Favorite Posts:
A Little More Reverse Culture Shock
Fictional Places I Want to Visit
Living Life in Hangzhou
BLOG | FACEBOOK | TWITTER | PINTEREST | BLOGLOVIN'
I'm so excited to share Frau Dietz and her AWESOME Eating Wiesbaden blog with you! Not only is she living in Wiesbaden, but she's sharing all the best restaurants, bars, cafes, markets, festivals, and foods that my most favorite German city has to offer. While living in Wiesbaden, I would frequent this blog for date night ideas. Today, I still visit when I'm feeling nostalgic for my old host city. Gosh, I miss that place. Frau Dietz gives excellent reviews of dozens of great (and not so great) dining options in Wiesbaden, so don't leave the house without taking a look! And make sure to check out her recipe for Spundekas dip--one of our German appetizer favorites!
Frau Dietz's Favorite Posts:
3 German Foods That Taste Better Than They Look
How to Make White Asparagus with Hollandaise
Wiesbaden's 5 Most Indulgent Hot Chocolates
My Favorite Posts:
5 Best Restaurants for Lunch in Wiesbaden
Frankfurt Green Sauce Recipe
Seasonal Eating Guides
-----------------------------------------------------------------------------------------------------------------
Welcome to the
FRESH FACE FRIDAY BLOG HOP!
Rules for hopping:
1| Follow your host & co-hosts (first 3 links), pretty please!
2| Link up your blog's homepage or Bloglovin' page.
3| Hop around, meet new bloggers, and leave them love!
4| Have fun? Spread the word and share this blog hop with your friends!
5| Want to be a co-host? Click here for more info!
Grab a button and share the blog hop love!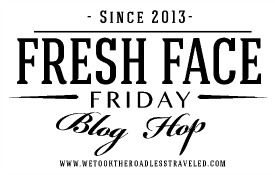 Tweet about this blog hop!
Tweet