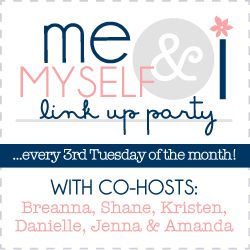 I'm lacking some original blogging content today as I sort through and edit more photos from our trip to Paris last August. So, thanks to Jenna & Breanna (among other fabulous bloggers), you get to learn more random nonsense about me. Stop your eye rolling. ;) Go link up and meet new bloggers!
Oh, and I forgot to mention this yesterday, but I'm offering

25% OFF ALL AD SPOTS

from now until Friday in honor of this month of Thanksgiving. I'm so thankful for all of you, my smart and sassy readers! Use code GIVETHANKS and get your spot today!
Oh dang, one MORE thing...if you haven't seen it already...go check out my Handmade Holiday Gift Guide!! It's filled with lots of fantastic handmade shops and gifts suited for every person on your shopping list this year! AND each shop has offered up discounts so you can save some serious cash this holiday season. Go shop till you drop, y'all! Wait, but first read these questions! (I'm all over the place today. Nap time is imminent.)
What are your top 5 favorite movies to watch during the holidays?
1) White Christmas (all time favorite...and an absolute must on Christmas Day!)
2) Home Alone (but just the original two movies)
3) Love Actually (Christmas and British people, be still my heart!)
4) The Holiday (there's nothing more to say but...Jude Law)
It's the month of giving thanks, what are you most thankful for?
-My sweet husband and weenie dog--my family back home in North Carolina--my friends, old and new--the opportunity to live in Germany--my health and the health of family--financial stability--my relationship with God--this blog and my wonderful, faithful readers--technology that helps keep us connected to our friends and family back home--and pizza.
If there were a quote or verse to describe your life, what would it be?
Who in your family are you most alike?
-If we are going off looks, I'd most definitely say my sister. Hands down. 9 times out of 10 people think we are twins.
But if we are going off personality...my cousin Ashley and I are insanely similar. My sister from another mister. She's just as quirky, adventurous, and nuts as I am! And yes, I was picking something out of her teeth at her sister's wedding and the photographer caught us. That's just how we roll. Oh, and thanks for the photo bomb Uncle Bob! Gotta love that guy.
What is your favorite drink order at Starbucks?
-In the fall (when I'm back in America)? A tall, non-fat, Pumpkin Spiced Latte, no whip.
-At Christmas? A tall, non-fat, Gingerbread Latte, no whip.
-All year round? A tall, non-fat, White Chocolate Mocha, no whip.
Whipped cream can get lost as far as I'm concerned. Now, who's up for Starbucks?
Happy Tuesday, friends!