I've really got nothing fun or clever to say today. I'm just super glad it's Friday and the weekend is upon us. I'm also happy that D only has to work 3 days next week, then he'll be mine all mine for the long 4-day holiday weekend! I always love when I get extra time with my boy. We'll most likely spend it decorating the house for Christmas...which will include figuring out how to get another real Christmas tree home sans truck. I'm thinking tying it to the roof might be a smarter idea this year. :)
As for your weekend, you should kick it off by getting to know these two Fresh Face bloggers below and link-up your on space to the Fresh Face Friday Blog Hop! And if you're still looking for the perfect gifts to give your friends and family this holiday season, keep in mind my 2013 Handmade Holiday Gift Guides! There are still lots of exclusive discounts up for grabs...but don't wait, some discount codes will be ending soon! I hope each of you have a lovely weekend! See you back here next week?
--------------------------------------------------------------------------------------------------------------------------------
BLOG | FACEBOOK | TWITTER | BLOGLOVIN' | INSTAGRAM | PINTEREST
Miss Lisette, the gorgeous brains behind Northern Belle Diaries, is a blogging powerhouse. Girlfriend is kicking butt and taking names in blog world! I look forward to Lisette posting each day and have
fallen in love with her witty writing, evolving photography, and the beautiful recaps of her Southern travels. She's also got her own booming blog design biz. In the market for a new look? Check out her design portfolio! If you've never had the pleasure of reading Lisette's blog, head on over and prepare to stay awhile. She's one to watch!
Lisette's Favorite Posts:
The Date That Changed it All
Your Voice is Like Your Elbow, It's Always There
DIY Upholstered Headboard
My Favorite Posts:
Integrity and a Blogging Overhaul
An Afternoon in Charleston, South Carolina
The Best Banana Nut Bread Recipe
BLOG | FACEBOOK | BLOGLOVIN' | TWITTER | INSTAGRAM | PINTEREST
Meet my blog-friend-turned-real-life-friend, Jessica, of Jessica Lynn Writes! Jess and I have known each other for quite some time now. In fact, I believe her blog was among some of the first blogs I ever started reading! I've even had the pleasure of meeting and traveling with her when she was stationed in Italy with her Air Force hubby. Blates are awesome, in case you didn't know. Over on Jessica's blog you'll find peeks into life as milspouse transitioning back stateside, fun posts chronicling her adventures as a new mom, and some seriously yummy recipes that I love trying out! Jess made me these burritos when I visited last October...so good! Come say hi & get to know Jess today! You'll be BFF's with her in no time!
Jessica's Favorite Posts:
What Being a First Time Mom is Really Like
Plitvice Lakes, Croatia
Gingersnap Cookie Recipe
My Favorite Posts:
So, What Do You Do?
Cruising in Europe: Bari, Italy
Discovering American Pride in Italy
---------------------------------------------------------------------------------------------------------------------------------------
Welcome to the
FRESH FACE FRIDAY BLOG HOP!
Rules for hopping:
1| Follow your host & co-hosts (first 3 links), pretty please!
2| Link up your blog's homepage or Bloglovin' page.
3| Hop around, meet new bloggers, and leave them love!
4| Have fun? Spread the word and share this blog hop with your friends!
5| Want to be a co-host? Click here for more info!
Grab a button and share the blog hop love!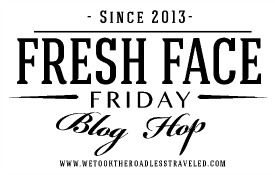 Tweet about this blog hop!
Tweet