It's Friday, once again, and I've got no clue how this week flew by so fast. Monday, I was standing among the mountains of Montserrat and by Friday, I'm now mulling over whether or not to really start unpacking or leave it until next week. I'm such a unpacking procrastinator. Good things are happening this weekend, though...so lots to look forward to for Team Coté. Tonight, we're heading to yet another fabulous winery on the Rhine to cheers and chat with friends from D's squadron. Then on Saturday, Ashley of Ashley Ludaescher Photography (a sweet blogger, photographer, and new friend of mine!) is making the long train travel from Berlin to Wiesbaden to take some photos of D and I in our beautiful German town! I'm SO, SO, SO excited about this! Ashley is an AMAZING photographer and I knew I needed her to shoot for us when I decided I wanted photos of D and I around Wiesbaden as a little keepsake from our time here. I'm positive one of the photos will end up being our Christmas card photo...another reason I'm stoked she's coming! Sunday & Monday, however, D and I have devoted to doing abso-freakin-loutly NOTHING. After traveling for 11 days...we need some rest. And to do some serious apartment cleaning. How does so much dust accumulate when there's no one around to kick it up? I'm constantly baffled.
Anywho, I hope you've got some stellar plans lined up for your Veteran's Day weekend. Don't forget to hug and thank a Vet on Monday! They've sacrificed so much for our country, let those sacrifices not go unnoticed, my friends! Also, please take some time before your weekend starts to say hi to my first two November Fresh Faces and link-up your blog to the Fresh Face Friday Blog Hop! Happy Friday, all!
Psssst!---don't forget to come back here Monday and get a head start on your holiday shopping with my Handmade Holiday Gift Guide! First guide going live is GIFTS FOR HER. Lots of great shops with exclusive discounts just for you! DON'T MISS IT!!
----------------------------------------------------------------------------------------------------------------------------------------
Blog | Facebook | Bloglovin' | Pinterest | Etsy Shop | Military Shop
This gorgeous gal above is Lydia, the writer behind the lifestyle blog The Few, The Proud, and This Marine Wife. Lydia is a proud mom to two adorable tots (with a third on the way!), wife to a brave Marine, and faithful Christ-follower with a passion for sharing what's on her heart. Over on her creative space, you'll find stories about her life as a devoted Marine wife, some great recipe & DIY tutorials, and insights into the mind of a woman who's loved and lost. She's also got two super adorable Etsy shops. There's nothing Lydia can't do! :) I hope you'll make your way over to Lydia's blog today and spend some time. I'm sure she'd love to get to know each of you!
Lydia's Favorite Posts:
One of THOSE Days
My Desert Storm
Designed For Each Other
My Favorite Posts:
One Year Ago Today...
How Can I Fear?
Paleo Breakfast Snack Bars
Blog | Twitter | Bloglovin' | Facebook | Instagram | Pinterest
Sweet Smores is a blog authored by Mallory & Mark, a couple of fun-loving adventurers living across the world from one another! Mallory is currently living abroad in Japan while Mark has his feet planted stateside in sunny California. Over on their duo blog, you'll find recaps of their travels, informative and inspirational musings about living abroad, and lots of drool-worthy posts on food adventures. They've also got an adorable cat, Simba, who's got a few posts of his own. ;) Come on over and meet these tag-team bloggers!
Mallory & Mark's Favorite Posts:
Top of the World
Osaka Weekend
Notes on a Long Distance Relationship
My Favorite Posts:
Nara Lantern Festival
History At My Feet-France 2012
How I'm Saving Money
---------------------------------------------------------------------------------------------------------------------------------------
Welcome to the
FRESH FACE FRIDAY BLOG HOP!
Rules for hopping:
1| Follow your host & co-hosts (first 3 links), pretty please!
2| Link up your blog's homepage or Bloglovin' page.
3| Hop around, meet new bloggers, and leave them love!
4| Have fun? Spread the word and share this blog hop with your friends!
5| Want to be a co-host? Click here for more info!
Grab a button and share the blog hop love!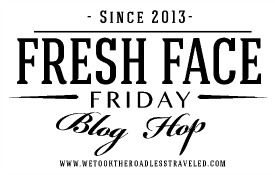 Tweet about this blog hop!
Tweet