As with all good things...sometimes, well, they just reach a point in time where it's best they come to an end. This, my friends, is the very last Fresh Face Friday on We Took the Road Less Traveled. I know! Sad news for a Friday. :( We've had a good 1.5 year run, this little ad spot and blog hop o'mine. But as life moves foward and priorities change, I've been feeling the need to let go of one project in sacrifice for another.
As you all know, I launched Road Less Traveled Vacations in early December. Since then, business has been steadily growing (yay!), and with the blessing of growth comes the need to show my baby biz more of my undivided attention. Even though I so enjoyed connecting with and learning about the bloggers that sponsored FFF (as well as those bloggers who participated in the blog hop), I just can't devote the time to FFF as the project deserves. So, with that comes my decision to focus more on my travel business, as well as keep this blog alive by posting on a more natural basis. I don't want anything to feel forced. Even though FFF's will be gone, there will still be Featured Ad opportunities as well as medium and small ad spot open...for now, at least. ;)
That all being said, I want to thank each and every one of my fabulous Fresh Face Friday sponsors for suporting my creative space and sharing little pieces of your blog and stories with me these last few years. You've not only helped my blog to grow, but me to grow as a blogger and businesswoman as well. I am forever grateful for the fun we've had each Friday! And to my readers and those who linked up from week to week...you guys are AWESOME! I hope you've all made new blogger connections are were able to see some growth in readership (and friendships!) as well! Now, let's make this last Fresh Face Friday go out with a BANG! Say hello to these two lovely bloggers and link-up your own space to the hop. Make new friends and help me say farwell to the Freshest Friday of them all! Love and hugs to you, blog world!
----------------------------------------------------------------------------------------------------------------------
BLOG |
BLOGLOVIN'
|
TWITTER
|
FACEBOOK
|
PINTEREST
|
YOUTUBE
|
GOOGLE+
Friends, meet Carly! She's the brains behind the lifestyle and travel blog, Let Us Wanderlust. Over on Carly's piece of the interwebs, she shares lots of fabulous posts filled with travel tips & recaps of her trips, gives us insight into her daily life with sassy style posts, and writes with such a fun and carefree voice that it's hard to peel your eyes away. I so enjoyed spending time reminiscing with and getting to know Miss Carly! Hope you'll do the same today and add her to your reading list!
Carly's Favorite Posts:
My Favorite Posts:
Within the Walls of Old Quebec
Beauty Favorites of 2014
Road Trip Essentials
BLOG | FACEBOOK | BLOGLOVIN' | TWITTER | INSTAGRAM | PINTEREST
Erica, author of the blog, Whimsical September (you can read more about the story behind the blog name here), is a fellow military spouse currently living and loving in Texas! Erica has been blogging for years and loves sharing peeks into her life as a military wife, momma to an adorable little girl, and their journey of improving their current home! If you have any affiliation with the military or motherhood, you'll LOVE reading Erica's blog! She's a total sweetheart, so make sure to take some time and leave her some love!
Erica's Favorite Posts:
Peace Out, Fort Hauchuca
Jamie's Homecoming from Afghanistan
Mom, All I Want is You
My Favorite Posts:
A First Birthday Letter to My First Born
The Roller Coaster of Being a First Time Mom
Better Than Sex Cake
----------------------------------------------------------------------------------------------------------------
Welcome to the
FRESH FACE FRIDAY BLOG HOP!
Rules for hopping:
1| Follow your host & co-hosts (first 3 links), pretty please!
2| Link up your blog's homepage or Bloglovin' page.
3| Hop around, meet new bloggers, and leave them love!
4| Have fun? Spread the word and share this blog hop with your friends!
Grab a button and share the blog hop love!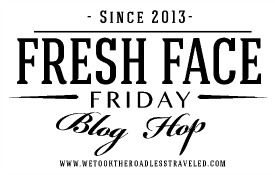 Tweet about this blog hop!
Tweet