Hey baby, let's go to VEGAS!! Today's the day...we're off to Sin City for 4 days filled with dancing, drinking, and maybe a scosche of gambling with my college roommate and her hubby! This whole trip came about thanks to D's birthday in early Feb and Nancy's 30th in late-Feb, so we thought no better way to celebrate two important birthdays than with some flashing lights and a little debauchery. Don't worry, Mom, we're too old to go too crazy (I envision a lot of whining and a fair amount of eye-rolling at the thought of staying out past midnight), but we're excited about letting our hair down just a bit. Especially after the stressful holiday season we just endured. Speaking of that, Tuck had his follow up vet appointment on Monday and the vet cleared him of strict crate rest! YAY! He's spent the week getting reacclimated to his walks around the neighborhood, chasing after his mini soccer ball, and frolicking around the back yard like the happiest pup in the world. If he could smile, he'd be smiling constantly these days. We're so thankful he's made a swift recovery, but we're still aware he's basically a ticking time bomb and could have another episode if we're not diligent with keeping him off furniture and away from stairs. So far, he's only escaped up the stairs once, but we were able to carry him back down before he had the chance to do it himself. That weenie will be the death of us, but we love him to pieces! If I have to die from the stress of keeping Tuck healthy, well, then I guess it'll be worth it. ;)
While I'm enjoying the spoils of Las Vegas, I hope you'll hang out with my fabulous co-hosts for Fresh Face Friday! I'm always so thrilled every time I get an email that a new blogger has linked up...even more stoked when I see connections being made in comments and on Twitter! Bloggers love community, so don't miss your chance to make new blog friends! Cheers to a safe and sassy weekend!
--------------------------------------------------------------------------------------------------------------------
Meet Emily Anne, a small town girl with a passion to travel the world one memory at a time! Over on her blog, EAT All Over the World, Emily Anne shares stories from her new life in Australia, gobs of lovely travel recaps, insights on what it's like to be an expat abroad. How did she end up in Australia? You can read that story here! Take some time and get to know Emily Anne and add her adventure to your reading list!
Emily Anne's Favorite Posts:
Shrimp on the Barbie
Sydney Opera House
American Slang Meets Australian Slang
BLOG | FACEBOOK | BLOGLOVIN' | TWITTER | INSTAGRAM
Miss
Olya
, of the fun-loving travel & lifestyle blog, The Siberian American, is no stranger to Fresh Face Friday. She's a FFF vet! Olya started her blog to share
recap her amazing travels
,
to share
thoughts from her
everyday life
,
and to give readers tips and tricks on making travel a part of their own lives.
And if you're in the need of a second set of eyes and writing skills, she also offers
editing services
! Welcome Olya to blog land today and spend some time getting to know this sweet traveling girl!
Olya's Favorite Posts:
My Top 5 European Travel Moments
3 Cities to Visit in France Besides Paris
Fall Foliage Cruise: Bar Harbor, Maine
My Favorite Posts:
24 Hours in Stresa, Italy
Best Shows in Las Vegas
Three Ways to Combat Post-Vacation Blues
---------------------------------------------------------------------------------------------------------------------
Welcome to the
FRESH FACE FRIDAY BLOG HOP!
Rules for hopping:
1| Follow your host & co-hosts (first 3 links), pretty please!
2| Link up your blog's homepage or Bloglovin' page.
3| Hop around, meet new bloggers, and leave them love!
4| Have fun? Spread the word and share this blog hop with your friends!
5| Want to be a co-host? Click here for more info!
Grab a button and share the blog hop love!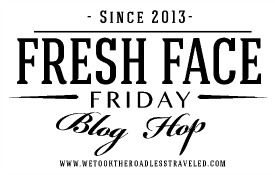 Tweet about this blog hop!
Tweet