Hi everyone! Happy Friday to ya! Anyone have anything exciting happen this week? Us either. Well…I lie. I was able to do something really super special for D this week and it kind of earned me the greatest wife ever award. I scored him a Saturday call-in for a beer pickup at Westvleteren Brewery for his birthday! To those of you who aren't tuned in to the Belgian beer community, Westveletern beer (even more specifically, their Westy 12's) is highly coveted by many around the world because it's brewed by monks in an abbey and is incredibly hard to get. The only way to get this beer is to make a call into the abbey and drive there on a specific day to pick up only 2 crates within a 2 month period. Trying to get a call-in is like trying to crack the Da Vinci code. No joke. There's only one phone and one monk answering it…so you can imagine the kind of calling traffic jams this creates. I've tried twice in the past month to get a call-in for D, but failed miserably. Suddenly, the opportunity arrived again on Wednesday and after 15 minutes and just 35 redials, I got through! A birthday miracle!! So, D and I will be driving up to Belgium for a little weekend beer excursion next weekend. The birthday boy is more than thrilled to check this beer-lover's adventure off his bucket list…and I am standing proud in the fact that I made it happen for him. Toot, toot!
Another fun thing that's worth noting this week…we finally tried the German Domino's pizza. A Domino's pizza shop opened up downtown a little over 6 months ago, but us being the skeptics that we are, never ordered a pie. Just like with Mexican food here, we figured this Domino's would be German-fied and taste nothing like the good stuff we're used to back in America. I totally wasn't in to cooking one night this week, so D bit the bullet and ordered from the German Domino's. Come to find out…it's not too far off from the real thing! It came in the typical blue and red Domino's box and had the same crust (just missing that garlic seasoning they've started using back home). One BIG difference we noticed was that this pizza wasn't half as greasy as a Domino's pizza would be back home. This was a good thing and a bad thing. Grease adds flavor…so it was a little blah in the beginning. But after the 3rd or 4th bite, I didn't miss the grease. In fact, after eating half the large pizza, D and I felt like we hadn't gorged ourselves because it wasn't oozing with cheese and grease like the US version. Will we be ordering from the German Domino's again? Absolutely! If you're in Wiesbaden, I suggest you order, too!
Ok, enough beer and pizza chit chat (are you guys hungry now?)…before you start your weekend, head on over and get acquainted with the two bloggers below and link your own space up to the Fresh Face Friday Blog Hop! It's the last one for January, so don't miss your chance to make new friends this month! If you'd like to get on board as a Fresh Face for Feburary or March…use code LETSDOTHIS and grab a spot at 30% off from now till Sunday! Happy weekending to all!
-----------------------------------------------------------------------------------------------------------------------------------
BLOG | BLOGLOVIN' | TWITTER | INSTAGRAM | PINTEREST
Nothing thrills me more than getting to share another fabulous travel blog with you! Interestingly enough, one written by a super sweet girl with my same name (and spelling…if you knew how many spellings our name gets confused with, you'd understand what a connection this is)! Casey of True Colours blog is definitely no stranger to adventure. Over on her blog, she shares recaps and photos from her amazing trips, lots of tips on the ins & outs of travel, and thought-provoking insights about travel and how it affects various parts of your life. If you've never had the pleasure of getting lost in Casey's blog…make your way over and get to reading!
Casey's Favorite Posts:
There's Something About Ireland
What Travel Teaches Us
An Ode to Third Culture Kids
My Favorite Posts:
Embracing My Passport
Travel Style: Hawaii
The Truth About Traveling: The Less Glamorous Side of Travel
BLOG | FACEBOOK | BLOGLOVIN' | TWITTER | INSTAGRAM | PINTEREST
Confession: before Erika graced my sidebar, I'd never read her blog. So shameful! After my first click on her blog, I could not stop reading!! I spent 2 hours roaming through her posts on daily life, her YUMMY recipes, and the gobs of inspirational and information posts she's written on just about everything under the sun. Erika seems like the kind of person you'd want to have a coffee date with. It's safe to say I'm hooked on the All Things E blog (and Erika…she's just too fun!). I love when I get sucked into witty & fun-loving blogs written by super talented bloggers! Head on over and get to know Erika, y'all!
Erika's Favorite Posts:
Bar Banter on Blogging Confidence
How to Be a Good Sushi Date
Wake Me Up When It's All Over
My Favorite Posts:
24 Things For 24 Years
True Life: I Got Mugged
18 Ways to Survive Separations From Friends
---------------------------------------------------------------------------------------------------------------------
Welcome to the
FRESH FACE FRIDAY BLOG HOP!
Rules for hopping:
1| Follow your host & co-hosts (first 3 links), pretty please!
2| Link up your blog's homepage or Bloglovin' page.
3| Hop around, meet new bloggers, and leave them love!
4| Have fun? Spread the word and share this blog hop with your friends!
5| Want to be a co-host? Click here for more info!
Grab a button and share the blog hop love!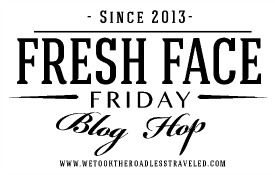 Tweet about this blog hop!
Tweet