Excuse me, but how in the world are we now entering the week of Christmas?
I feel like I blinked and it was here. I also feel like I say that every year. It sneaks up on us all. Thankfully, all my shopping is done and half the gifts wrapped...so I'm ahead of schedule for once! I have to say, even though I miss our Germany Christmas so much, it's been such a breeze making Christmas happen now that we're back stateside. My online shopping has been limited, haven't had to battle the post office nearly as much, and I've had access to every single gift I needed to buy (no more "we can't ship that to you, sorry!"). No pressing timeline to get things mailed by a certain date, either. It's been a whole lot less stressful, if that can even be said about the holiday season? Not to mention, I've spent the entire month of December with my family in NC. So lovely. Although I have been missing my dear husband, as he's been in Alabama the last 5 weeks for another Air Force training. Happy to report he's now graduated and on his way home for Christmas in just a few days! The holidays are shaping up to be quite nice thus far. Just need to make me a pot of gluhwein and I'll be smooth sailing 'till Santa.
In other news, the new travel agent biz is moving along swimmingly! So far it's been quite fun...and I'm slowly but surely figuring out how I'd like to run things. Always a work in progress, though! BIG THANKS to all you lovely people for your kind words, encouragement, and the amazing support you've shown since I launched Road Less Traveled Vacations. My heart as been so full (and so busy!!). I'm really looking forward to all the fun travel planning and business growing that is to come in the new year! Please keep me in mind for any winter getaways you might like to book in 2015. Lots of "beat the freeze" deals coming out for cruise lines and all-inclusives, so email me at casey@destinationstoexplore.com for more info or a FREE quote!
Enough biz talk...it's time for the Fresh Face Friday Blog Hop! Meet the two lovely ladies below and spend some time linking up and hopping around blog world today. No better way to start your Friday! Cheers to a lovely Christmas week for all! May all your holiday shopping be done lickety split! Until next week...
--------------------------------------------------------------------------------------------------------------------
Old soul, daydreamer, beautiful photographer...Lucy is the author of the charming lifestyle and travel blog, The Road is Long, and so much more. Over on her creative space, you'll read stories of her travels, musings on life (an lovely writer, she is), and insights as she shares her love of living holistically...AND her gallery of Bali photos has me drooling for a Balinese getaway this instant! GORGEOUS! Get lost in Lucy's blog today and make a new travel-loving friend!
Lucy's Favorite Posts:
My Favorite Posts:
Moving Country? What to Expect
Bali and Me
Just Living
BLOG | FACEBOOK | TWITTER | BLOGLOVIN' | PINTEREST | YOUTUBE | INSTAGRAM
Friends, meet Jenny! She's the blogger over at the UK lifestyle blog, Sunny Sweet Pea! Miss Jenny has a cute pup named Pip (LOVE!), is an extrovert with introvert tendencies (you and me both, girl!), and loves to write about all things books, recipes, & living life in Norfolk. She's also got a snazzy eye for photo styling. I've so enjoyed wandering around her space this week. Want a new blog to fall in love with? Sunny Sweet Pea is a winner!
Jenny's Favorite Posts:
Ruins
Burnham Market: The Loveliest Village in Norfolk
Houghton Mill
My Favorite Posts:
Beside the Seaside
Lemon Drizzle Cake with Edible Flowers
30 Things in 30 Years
---------------------------------------------------------------------------------------------------------------------
Welcome to the
FRESH FACE FRIDAY BLOG HOP!
Rules for hopping:
1| Follow your host & co-hosts (first 3 links), pretty please!
2| Link up your blog's homepage or Bloglovin' page.
3| Hop around, meet new bloggers, and leave them love!
4| Have fun? Spread the word and share this blog hop with your friends!
5| Want to be a co-host? Click here for more info!
Grab a button and share the blog hop love!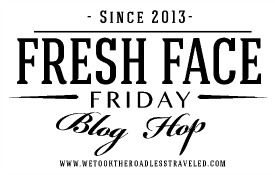 Tweet about this blog hop!
Tweet