Is everyone frozen yet? What in the world, Arctic Air Invasion? And it's only November?! Whew, a cold and stormy winter it's sure to be! Well, for the majority of the US. We here in Central Florida are chilly, but nowhere near the kind of frozen most states are experiencing. I can honestly say I don't miss that part of living in North Carolina. I did, however, have to bust out my first pair of long pants these last couple of weeks as we've dipped into the 60's from time to time. Yesterday we touched the mid-40's (!!!). It felt a little reminiscent of Germany weather (chilly, gloomy, cloudy, rainy) and weirdly enough, I felt comforted by it. But today, we're snapping up to the mid-70's again and the sandals are back out. I imagine I'll develop a nice cold from the wonky weather, but at least we're feeling some flashes of fall. I have to admit…it's super strange trying to listen to Christmas music while passing droves of palm trees and people in shorts and sunnies. Total atmosphere flip from the last 3 years abroad. Can't say it feels much like the holiday season, but I'm trying to will it here with every Christmas commercial I see. Well, all except the snow and freezing temps. Those can just hang back a bit. I'll get my fair share of it while we're home in NC for Thanksgiving and Christmas.
Anywho, enough weather ramble…I hope your weekend is shaping up to be a stellar one wherever you are in the world! And if you're up for some Friday fun, check out these two expat bloggers, link up your own blog to the hop, and make some new friends! Ooo, and don't forget to enter the mega MINTED giveaway! Just a few days left! Happy Friday, all!
--------------------------------------------------------------------------------------------------------------------
Friends, meet Jamie…expat in the UK, blogger, and true travel-lover with a taste for unique destinations. Over on Jamie's blog, Gunter's Abroad, you can find great recaps of her travels (ski-lovers unite!), yummy recipes, hotel reviews, and thoughtful peeks into her life as an expat navigating life far from home. I've thoroughly enjoyed roaming around Jamie's creative space and drooling over all her UK adventures! What a fabulous country to experience expatdom! Go say hi and get lost and Jamie's blog today. You won't regret it!
Jamie's Favorite Posts:
Nice & the French Riviera
Tomatokeftedes
Expat Life: What They Didn't Tell Me
BLOG | FACEBOOK | TWITTER | BLOGLOVIN' | INSTAGRAM | PINTEREST
This beautiful blonde is none other than the author of Unlocking Kiki, a fun travel-inspired blog sharing Kaelene's story of expat life in Iceland! Kaelene is well-versed in sharing gorgeous travel recaps, informing expats on life in Iceland, and allowing readers small sneak peaks into who she is as a globetrotting gal. It's fun to reminisce my own expat life through her experiences abroad. And those Iceland photos, WOW! Makes me want to hop a plane today! Don't miss your chance to get to know Kaelene and follow along with her journey!
Kaelene's Favorite Posts:
Life Lessons Learned Abroad
Kaelene's ABC's of Travel
An Awkward American in Iceland
My Favorite Posts:
10 Must See Places in Iceland
5 Tips for Making Friends Abroad
The Beginning of My Travel Story
---------------------------------------------------------------------------------------------------------------------
Welcome to the
FRESH FACE FRIDAY BLOG HOP!
Rules for hopping:
1| Follow your host & co-hosts (first 3 links), pretty please!
2| Link up your blog's homepage or Bloglovin' page.
3| Hop around, meet new bloggers, and leave them love!
4| Have fun? Spread the word and share this blog hop with your friends!
5| Want to be a co-host? Click here for more info!
Grab a button and share the blog hop love!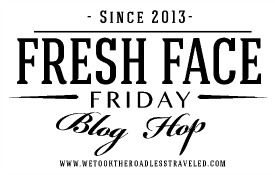 Tweet about this blog hop!
Tweet