It's officially the second weekend in February and we still have no clue where we're moving yet. Can you tell this is overtaking my mind at the moment? I can't stop thinking about it. I wake up every morning, kiss D goodbye as he heads to work, and spend the day keeping myself busy...all the while hoping he'll walk through the door after work with some news. Good news. It's pure torture, you guys. One thing you should know about me is that I HATE surprises. Specifically the surprises where I know something's coming, but I don't know when or what it is. If I ever committed a crime, withholding of surprises would be like the death sentence of punishments to me. If you're one of those people who like to say, "I know something you don't know!"…I will murder you to find out (or at least pester you to death about it until you crack). Plain and simple. The Air Force is so good at dangling carrots over our heads. In my case, it feels like they're dangling my career, our future home, future family plans, deployments…all the question marks I've got floating around my life, they're dangling. This waiting game is a true test of patience. You remember, I'm the least patient person in the world, so I'm failing this test miserably, per the usual. But, this weekend we've got some downtime coming our way. We've traveled somewhere every other weekend for the last 2 months and it's not likely to stop until April. Good for keeping busy, bad for relaxing. We're looking forward to lounging and catching up on some shows, having dinner with friends, and eating leftover birthday banana pudding from D's 28th birthday celebration. Even though we've got so many unknowns weighing in the balance, we're thankful for each other, for our time left here in Europe, and of course, banana pudding. If you're going to make me wait out a big life changing decision, at least give me dessert. Life could be worse!
I hope you all have some super awesome plans up your sleeves this weekend! If they involve banana pudding, I imagine we're soul sistas (or brothas). Before you head off to enjoy your Friday…make a pit stop and get to know the two fun bloggers below! While you're here, do yourself a favor and link your blog up to the Fresh Face Friday Blog Hop. If you're wanting to grow your blog and network with new friends, it's the perfect (free) way to do so! Happy Friday, y'all!
**Oooo!! One more thing! I've been nominated to be a part of Bab.la's Top International Exchange & Experience Blogs and need your vote! If you could spare a second and VOTE HERE for We Took the Road Less Traveled (blogs are in alphabetical order, so I'm wayyyy down at the bottom!), I'd love you forever and ever! You can only vote once, so I won't be pestering you guys about this again. Yay! Thanks so much, friends!**
--------------------------------------------------------------------------------------------------------------------
BLOG | TWITTER | BLOGLOVIN' | GOOGLE+
Friends, meet Brittany! She's the brains behind the blog The Rococo Roamer…a lovely space full of travel inspiration, flea market finds, and fun DIY projects! Brittany is a fellow expat currently living in Germany (yay!). When she's not working and pursing her Master's degree, she's out experiencing the German culture, traveling across Europe, and making the most of her time abroad! That's the way to do it, girl! :) I love following along with other adventure seekers, so head on over to Brittany's blog and make friends today!
Brittany's Favorite Posts:
My Favorite Posts:
BLOG | FACEBOOK | BLOGLOVIN' | TWITTER | INSTAGRAM | PINTEREST
What's not to love about a girl with the last name Beer? I mean, it might be the greatest last name ever (just sayin'). Anywho, you guys should meet Jess…mom of Abbie, wife of Chris, and fun-loving blogger over at Being Mrs. Beer. On Jess' slice of the web, you'll find lots of stories and musings on motherhood (isn't Abbie adorable?!), yummy recipes, and peeks into their life as a happy family in Virginia. Jess is such a sweetheart, so be sure to stop by her blog and say hello!
Jess' Favorite Posts:
41.2: A Different Kind of Birthday
Rachel & Abbie
Stuffed Peppers with Quinoa and Ground Turkey
My Favorite Posts:
Everything Happens For a Reason
Welcome to the
FRESH FACE FRIDAY BLOG HOP!
Rules for hopping:
1| Follow your host & co-hosts (first 3 links), pretty please!
2| Link up your blog's homepage or Bloglovin' page.
3| Hop around, meet new bloggers, and leave them love!
4| Have fun? Spread the word and share this blog hop with your friends!
5| Want to be a co-host? Click here for more info!
Grab a button and share the blog hop love!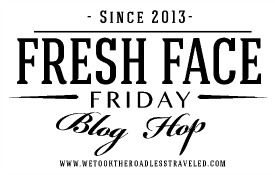 Tweet about this blog hop!
Tweet