Have I ever told you guys that D's squadron has a winery? Well, they don't own one, per se, but they do partner with a really fabulous one situated along the Rhine River (my single favorite wine growing area in all of Germany, mind you). I'm not really sure how this wine/squadron partnership came to be…but what I can say is that it's been very beneficial to the two wine lovers of Team Coté. Because of this partnership, D and I currently have 30 bottles of the most delicious Riesling we've ever tasted...and...we picked it with our own two hands in the fall of 2012. How insanely cool is that? We picked the grapes that made the wine that has become one of our favorite wines of all time. I may be a bit biased, but it's really dang good! I love serving one of these bottles of wine to our friends at dinner and telling the story of how D and I almost broke our backs picking just 2 rows of grapes. What a gift to be able to say we picked grapes on the Rhine in Germany and have the fruits of our labor to prove it. Our wine bottles are even labeled with the squadron seal! NEAT, right?! The point of this whole not-so-humble brag is that tonight we're going to our last wine tasting at this amazing winery. Our squadron and the vintner set up a 25 bottle (yes, you read that correctly) wine tasting every few months and open only a handful of slots for lucky wine enthusiasts to attend. We went to one tasting last year and now, we're attending our last. Another bittersweet first of the lasts. I'm really gonna need that wine…and the 3 or 4 cases we hope to buy to ship back home with us this summer. If I can't take Germany with me, at least I'll have their wine. I mean, my wine. ;)
I hope you've all got some fun plans for the weekend! Before you get going, please take a hot second to visit the two Fresh Face bloggers below and link-up your blog to the Fresh Face Friday Blog Hop! It's the last one for February, so don't miss your chance to make new friends and gain some great blog exposure for yourself!
------------------------------------------------------------------------------------------------------------------
BLOG| TWITTER | BLOGLOVIN' | INSTAGRAM | PINTEREST
I've got another fun expat blog for ya! Mary is a 23-year-old Scottish native and coffee lover currently living in Southern Germany. Over on her blog, Pick The Wildcard, you'll be reading posts about Mary's adventures in Bavaria, her thoughts on adjusting to life in a new country, and taking a peek at fun lists of things she loves. Make some time today to visit Mary's blog! Always nice to add another expat to your reading list! :)
Mary's Favorite Posts:
Very German Things: Bizarre English Loanwords
Postcards from Austria: Daytrip to Salzburg
Autumn Apple Cake Recipe
My Favorite Posts:
Postcards from Bavaria: Kloster Weltenburg
Very Germany Things: Ridiculously Long Words
Recipe Roundup: German Recipes Part 1
BLOG| TWITTER | BLOGLOVIN' | INSTAGRAM | PINTEREST | GOODREADS
Meet Jillian, full-time student, writer, and the brains behind the namesake blog, Jillian Lorraine. Over on Jillian's creative space, you'll find some awesome tributes to
Dawson's Creek
(I heart Pacey Witter!) and other pop culture pieces, musings on life and friendship, and some insanely
witting writing
. I absolutely adore Jillian's sense of humor and she's definitely got the gift for telling a great story. Head on over and get to know Jillian, y'all! You'll be a forever follower in no time. :)
Jillian's Favorite Posts:
Me at 20
Martha's Vineyard
My Favorite Posts:
Moving: Fantasy vs. Reality
Why Writing?
Enjoy Malibu
------------------------------------------------------------------------------------------------------------------
Welcome to the
FRESH FACE FRIDAY BLOG HOP!
Rules for hopping:
1| Follow your host & co-hosts (first 3 links), pretty please!
2| Link up your blog's homepage or Bloglovin' page.
3| Hop around, meet new bloggers, and leave them love!
4| Have fun? Spread the word and share this blog hop with your friends!
5| Want to be a co-host? Click here for more info!
Grab a button and share the blog hop love!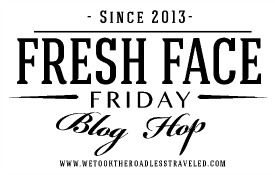 Tweet about this blog hop!
Tweet