It's Friday. Time for the long awaited weekend and the day where I go and shoot my first gun. Yeah, you read that correctly. Saturday morning D and one of his co-workers are making me and his wife go to the shooting range with them and shoot things (i.e. a target, probably). I say "making me" very loosely. I only halfway volunteered to go. See, guns aren't my thing. Shocking, right? Also, sport-like extracurricular activities aren't my thing either. This one time, at a Boy Scout camp my 6th grade class went to, we had to participate in an archery class. Shooting a bow and arrow seems pretty fun and easy enough for an 11 year old, right? Or so I thought...right up until I shot that rubber arrow into my forearm and left a bruise the size of Kentucky up and down my arm. I mean, really. How does one do something like that? A question I've asked myself more times than I'd like to admit, but still come up puzzled. I've warned the boys that I'm not the best shot with an arrow, so a bullet might prove to be troublesome for us all. To which they said that's precisely why they're taking us girls to the range to learn the safe and proper way to handle a gun. Being married to a man in the military is not fun sometimes, people. But, I know I'm in good hands and I won't shoot my own hand off. I think. No, I know I won't. I think. I'll keep you posted. ;)
So, while I'm away getting schooled in rifles, you should grab a cup of coffee, relax in your combat boot-less pajamas and head on over to the two blogs below and say hi! Then spend some time hopping around to other blogs linked-up to the Fresh Face Friday Blog Hop...but don't forget to link-up your own blog as well!
Happy weekending, my dears!
--------------------------------------------------------------------------------------------------------------------------------
Have you guys met, Belle? She's the intelligent blogger behind Finding My Virginity blog! Belle is a self-proclaimed francophile (she's a former expat to France) and Christian feminist whose blog is filled with discussions about virginity, sex, religion and the occasional book review. Sounds pretty fascinating, huh? Belle is also a passionate advocate for women, as is evident by posts like this. She so good at making you think differently about the world around you. It's refreshing to see a blog that's so raw & honest these days. Make sure you stop by Belle's domain and get to know more about her authentic blogging soul!
Belle's Favorite Posts:
My Favorite Posts:
Love Is...
Blog | Google+ | Bloglovin' | Instagram
My friends, this is Britt...how fierce does she look in that photo above? So sassy, and I love it! Miss Britt is the blogger brains behind One and 20, a blog all about Britt's quest for balance and healthy living. Over on One and 20, you'll find inspirational posts on weight loss, finding your own inner and outer beauty, as well as learning a little bit more about Britt and her bucket list! She's also got a few healthy recipes to share, too. I hope you'll take some time today to get to know sweet Britt a little better! Be sure to pick up a few healthy living tips while you're there!
Britt's Favorite Posts:
Road Trippin': 5 Reasons to Seize the Open Road
Weekly Wishes
A-Z of BRD
My Favorite Posts:
Globe Trottin': Puerto Rico Day 1
100 Day Project: Day 25
Truth Bite
------------------------------------------------------------------------------------------------------------------------
Welcome to the
FRESH FACE FRIDAY BLOG HOP!
Rules for hopping:
1| Follow your host & co-hosts (first 3 links), pretty please!
2| Link up your blog's homepage or Bloglovin' page.
3| Hop around, meet new bloggers, and leave them love!
4| Have fun? Spread the word and share this blog hop with your friends!
5| Want to be a co-host? Click here for more info!
Grab a button and share the blog hop love!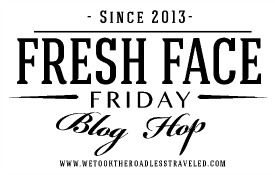 Tweet about this blog hop!
Tweet